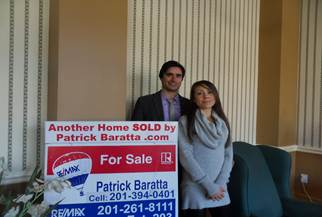 We will be always grateful to Patrick Baratta; he saved us from purchasing a home last year when we fell in love with a property in Ridgewood, it was a bad deal with several problems, a potential money pit. Of course, at that time and being a first-time buyer we did not see those problems, everything looked great to us. Patrick first gently tried to open our eyes explaining the various problems all over the house, and then when he realized that his warnings were not enough he put his foot down and told us not to make an offer for that property. He went against his own interests to save us from a bad deal. Well, as today, that property is still on the market, more than a year and a half later! After having dodged that bullet, we finally found the right property after all this time, and we are now very happy. Patrick has been incredibly supportive and patient during all these months of searching for a home. Patrick was extremely competent and honest, he took the time to explain to us all the steps involved in purchasing a home and what was most important that we would find a home with good bones and resale value. In September, we found our dream home. Cherry on top of the cake. During the final walk through Patrick spotted a defect hidden by personal belongings from the home inspector. Patrick took photos and insisted to our attorney that we receive a credit for the defect at the closing table. $1000 we are still amazed on how Patrick reacted right down to the wire to defend us. We could not believe it! We recommend Patrick to everyone! I strongly believe there is not a better agent out there. Simply amazing, thank you, Patrick Baratta!
Marta Bastioli

---
Patrick Baratta is more than a real estate agent, he is going to become your best friend and one who will fight for you, make phone calls for you, answer your calls after 10pm at night, let alone drive to your house to prepare an offer at 11pm on a Sunday night. I found myself in a bidding war, very tough situation to live with, and Patrick was there preventing me to overshoot my offer while at the same time making a winning offer. He predicted to the last digit the appraisal number, and after the inspection, he advised me to renegotiate the price. At that very time, I was out of the country for business, he took care of everything for me. I asked him to get a price reduction of $3-$5,000 dollars, not more, as I was afraid to lose the property. I still remember I was in Rome when Pat called me two days later and told me that he got us $10,000 price reduction! Patrick is a great strategist when it comes to beating other offers for hot properties. He mentioned we were under contract and were confident we would not lose the home to the other bidders, knowing the appraisal would be the same all around. It was important to him that we understood our options and were satisfied with everything. I am going to put the $10,000 he saved me down to purchase a new car. I would like to add that all the professionals he recommended, such as the mortgage brokers and home inspectors were exceptional and my attorney made comment as well. I am surprised because usually I am never 100% satisfied with anybody working for me but I must tell you that Patrick excelled my best expectations from start to finish. I am proud and honored to recommend Patrick Baratta, a true real estate professional and now my friend forever.
Simone Bastioli
If I was to describe Patrick Baratta in one word, it would be flawless.
When we were struggling to find our first home with several other non-performing realtors, we found Patrick Baratta linked to a home in Wayne and after reading his amazing testimonials and the moment I first spoke to him. I knew that he was a straight shooter; He wasn't going to steer us wrong. He has 22 years of construction experience behind him and more than 16 years of real estate experience. We are so fortunate to have him as our realtor.
Choosing him as our real estate agent was the best decision my husband and I could have made. Patrick left no stone unturned while we hunted for our dream home. Every walk through was detailed and on point. My phone calls were always his priority number 1, even at 10 pm on a Sunday!
Patrick Baratta was always on our side. He looked out for our best interest first and foremost, as this was our first venture in buying a home. When we found our dream home, Patrick helped us get it at the best price possible, not for his best interest, but for ours. Patrick educated us through the ups and downs of buying a home, cancelled contracts, coordinating home inspections, guiding us with our lawyer, mortgage rep and so many questions answered and so much more. Patrick's dedication exceeded all our expectations.
We sing your praises every day as we enjoy everything about our new home! We could not have asked for a better real estate agent. We can never thank Patrick enough for assisting us through that intense journey. We keep Patrick Baratta' s number on speed dial and always will! You will have a great experience! Just call him!
Thanks a million for everything Patrick!
Ihsan and Aelya and Family. Petroleum Fuels Executive and House Wife and Family
Patrick showed us just how substantial a difference a knowledgeable, experienced, and dedicated realtor can make in the home buying process. Patrick new the ins and outs of home buying and had a terrific feel for the market. As first-time home-buyers, Patrick helped familiarize us with the process and pointed out the key details to pay attention to within each home. Patrick provided valuable insight as my wife and I made our initial offer with several other buyers in a highly competitive market. His advice allowed us to position our offer very competitively without overshooting. Owing in good part to Patrick's advice, our offer was accepted. Without Patrick's tactics and advice, I'm convinced our offer would not have been accepted.
Later, the home appraisal came in lower than the home's selling price. Patrick explained in detail our options in the case of a low appraisal and put forth a plan to go back to the seller with a revised offer. After several rounds of negotiation, during which we followed Patrick's advice closely, our revised offer was accepted. Not only did Patrick's plan prevent us from losing the property, it also helped us negotiate a price reduction on the original offer. In this phase, Patrick really differentiated himself from the rest of the realtors we first previewed properties with. I doubt the other realtors would have had the awareness and skill to strategize and put together a plan like Patrick did for us.
My wife and I were greatly impressed with Patrick's reviews and could not have been more fortunate to have met Patrick and worked with him as our realtor. As a testament to his dedication, Patrick contacted us during Super Bowl LI after we requested information about a property. His level of dedication from that first call to the close never wavered. Erin and I can't thank him enough as we now live in a beautiful home in a great town. In Patrick, we made a friend for life. I firmly believe we worked with one of the most knowledgeable and skilled realtors in NJ, and we highly recommend Patrick for your property needs. Matthew, Erin and Family. Certified Public Accountant and Professional Tennis Coach
---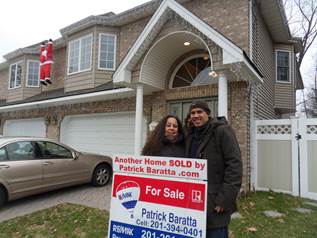 My husband and I had the privilege of working with Patrick Baratta as our realtor when looking to purchase a home in Elmwood Park, New Jersey. Patrick is very professional and personable. He clearly takes pride in doing a good job. Patrick's knowledge about real estate is multi-faceted and he is most certainly able to do more than the average agent. He knows his market extremely well; he is diligent, responsive, and yet very patient with his clients. In our particular case as a buyer, there were many rough spots on the road to closing and in every instance, Patrick was a great help. We appreciated his ability to advise us post home inspection, he was there to help and support us in every possible way. We would not hesitate to recommend Patrick Baratta to any person who is looking to buy or sell a home, as well as seeking his service in any of our future real estate transactions. We can't thank you enough for your professionalism, expertise, and hard work in helping us find our home in Elmwood Park. We love our home, the neighborhood, and the community! Thanks again and best regards.
Edwin and Julia
---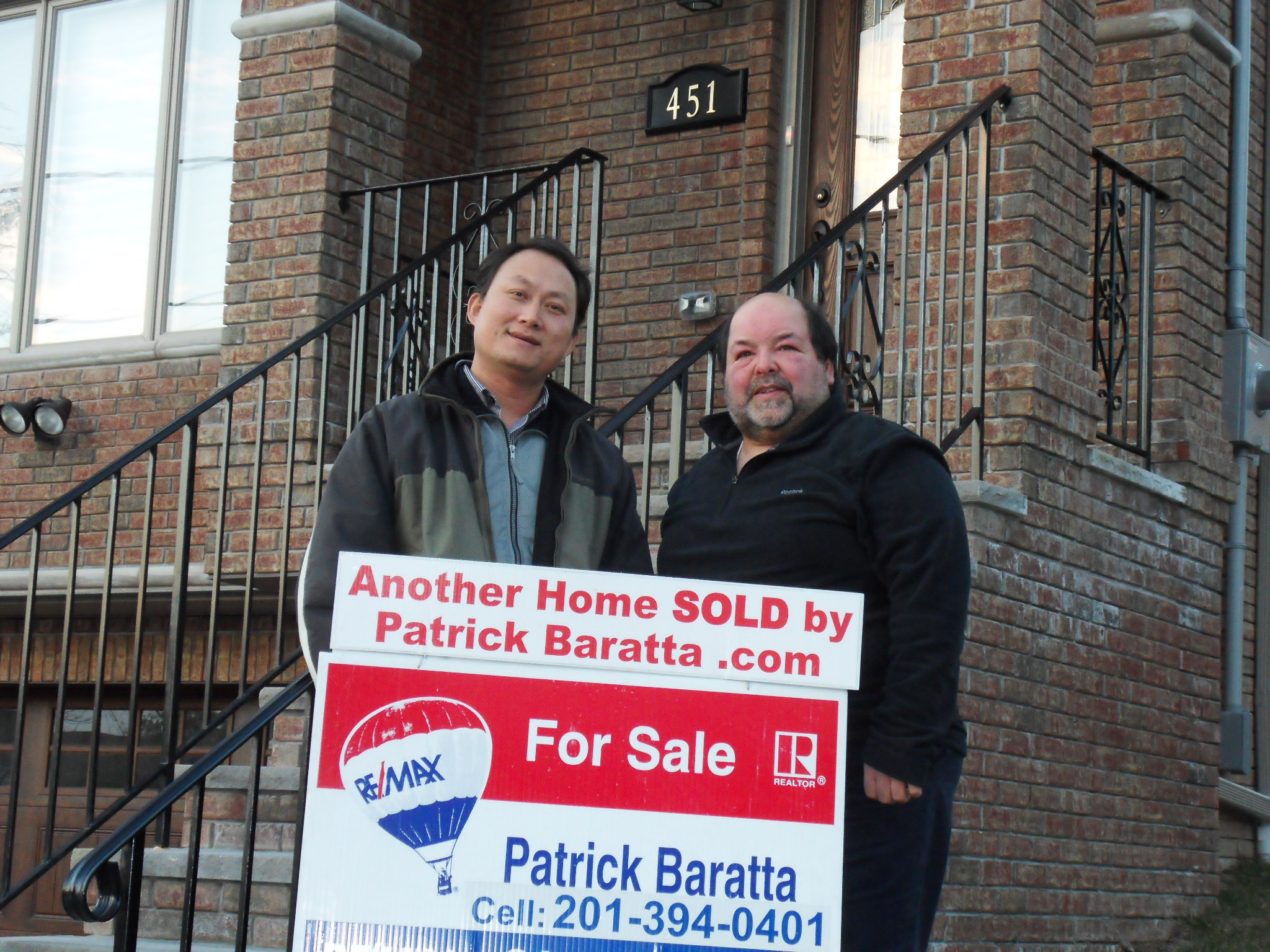 It was a pleasure to have Patrick Baratta as our buying realtor. He is a true professional, very knowledgeable, and always has good and honest suggestions. His construction background is extremely helpful, particularly to first-time home buyers like us. Patrick showed us all the new construction homes in Fort Lee where we wanted to live. He was quick to point out the quality of the building materials used by the builders and compared the craftsmanship from one to the other. Patrick is very efficient. Amazingly, he did research on every single house he showed us, and we had a good idea of the strength and weakness of the houses we looked at. Patrick is always accessible, returning calls even late at night. We are very pleased with the whole process of working with Patrick, from identifying the best house, negotiating a reduction in the sales price with the builder to getting advice on attorney and mortgage provider. You are in good hands if you choose Patrick Baratta. Thank you.
Junqiang
---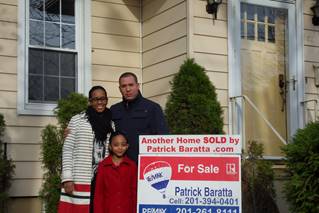 Looking for a home is both an exciting and frightening experience. The people needed to help you through the process are crucial to making sure that your experience is a great one. Choosing a realtor is extremely important as you want to select someone that is highly recommended and is good at their job. Patrick Baratta was recommended to us by friends who had recently purchased a house with his help. From the moment we met Patrick he was welcoming. He made the house hunting process enjoyable and educational. Patrick is well-versed in construction, which is an added bonus for a realtor. When we would enter a property Patrick would point out flaws in a house regardless of how much I loved it. This was great because as a new potential homeowner there were many aspects of a home that I did not understand. He was always very patient and willing to answer my endless questions. I saw over 80-90 properties and never felt rushed to make a decision. Patrick served as an expert adviser who was always available to ease my anxiety.
One of my happiest days throughout this process was when I received a call from Patrick informing me that my offer was accepted. Patrick's guidance continued in this second phase of home buying. He assisted in finding a trustworthy home inspector and always made it a point to check in on how the loan process was going. If you are looking for an amazing realtor who is honest and patient, Patrick Baratta is your guy.
Elizabeth, Joey and Family
---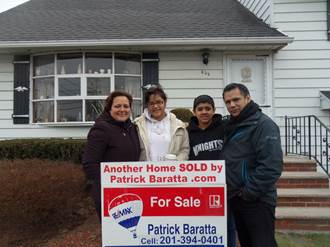 To All home Buyers! We have been trying to buy a home for some time and we were looking at properties with different realtors, and we were not satisfied at all with their protocol and making us feel pressured. After renting for so long, we finally met Patrick Baratta last spring. We loved his work since we met him. Patrick has a charisma that gets you right away. Patrick has made us feel comfortable and he never pressured us to purchase any home, not once. He understood our necessities and what we were looking for since day one. He sticks to your budget and works hard to find you what are you looking for. No matter how many homes he has to show you, he is committed to getting you the home of your dreams. Patrick is a professional realtor but at the same time, he treats you like family. Patrick has a lot of knowledge and skills from his construction background. You can ask him anything you want from the simplest questions to the most complicated questions like renovations, electricity, construction, and gardening.
Patrick showed us so many homes and never got tired of it. Every time that we did not like a home, he encouraged us to continue looking until we get the home we wanted. We are a picky couple and a little hard to please, but he never gave up. Finally, in December he showed us our dream home. Patrick reviewed the home as if he was buying it for his own family. He gave us ideas and suggestions on renovations and upgrading the electrical panel and he negotiated a great price for us. Patrick introduced us to a mortgage broker who happened to be a great one. He also recommended inspectors who also did a great job and suggested we do different tests on the house so we felt secure buying the home. Patrick was on top of everything throughout the closing process. We called him many times and he always answered the phone, responding our email and text messages promptly.
PATRICK IS AN HONEST REALTOR. ANYONE CAN SHOW YOU HOMES, BUT PATRICK TELLS YOU RIGHT AWAY, WHAT IS GOING ON, IF THE HOME DOES NOT HAVE POTENTIAL OR IF HE FINDS SOMETHING WRONG, HE DISCUSSES THE ISSUES WITH YOU SO YOU CAN MAKE THE CORRECT DECISION IF THAT HOME IS FOR YOU. PATRICK ALWAYS WORKS FOR YOUR BENEFIT AND HE WANTS YOU TO GET THE HOUSE THAT IS BEST FOR YOU. HE IS A REALTOR THAT YOU CAN TRUST. WE TOTALLY RECOMMEND PATRICK BARATTA AS A REALTOR. HE HAS KNOWLEDGE AND PATIENCE. HE CARES FOR HIS CLIENTS AND HAS LOVE AND PASSION FOR THE WORK HE DOES. IF YOU NEED A REALTOR CALL PATRICK BARATTA, THE REALTOR THAT YOU CAN TRUST.
Elena, Luis and Family
---